Back to top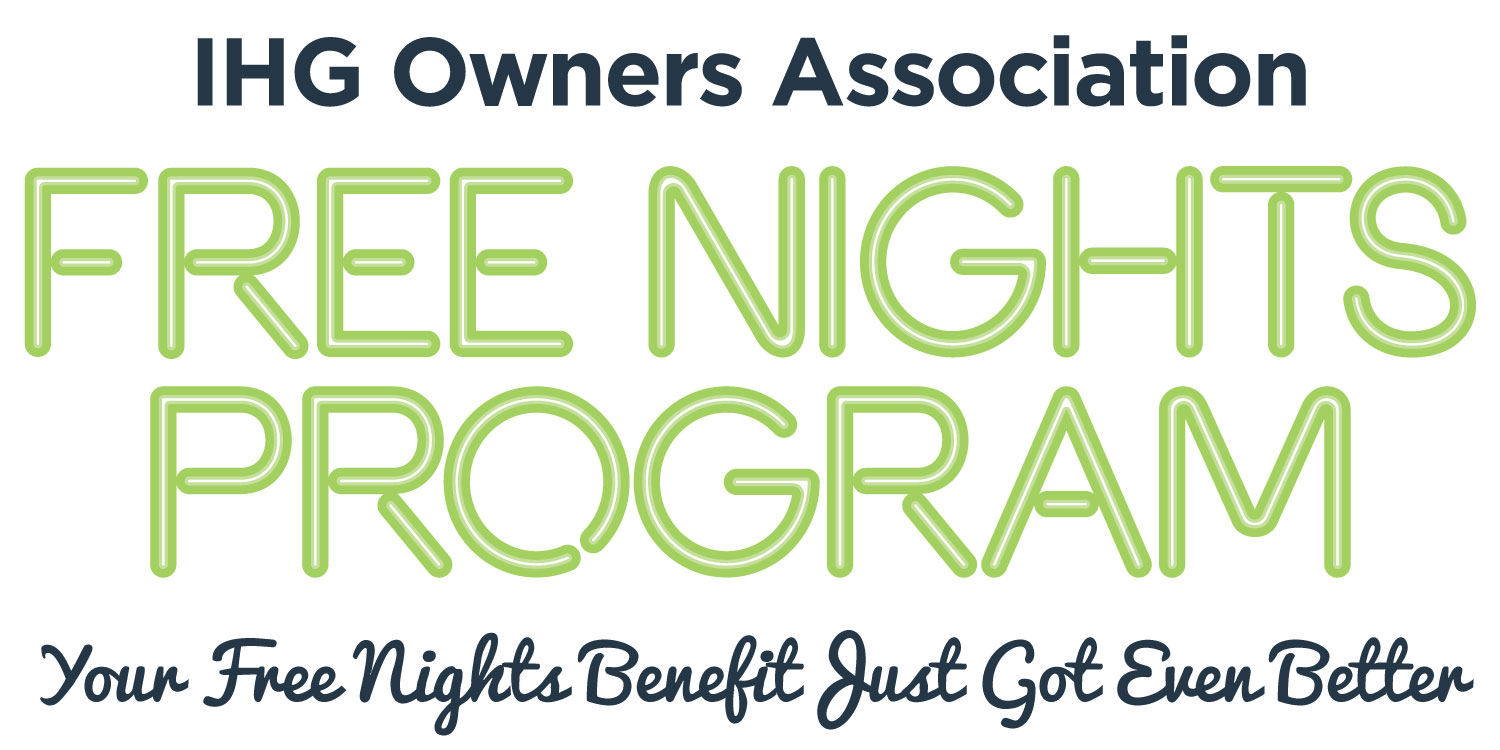 The Free Nights Program is an exclusive Association member benefit that helps you save on travel costs by providing more than two dozen complimentary room nights each year that you can use at any other member hotels, subject to certain restrictions. Here are the details:
Member Benefits
Each member receives twenty-five (25) free room nights per year to use at any member hotel.

One (1) stay per month is permitted at any given member hotel.

Members may book two (2) free rooms per night, per stay.

Up to three (3) consecutive nights are allowed for each stay, per member.

Members may book their free nights through these booking channels: 

the IHG mobile app

, 

www.ihgrewardsclub.com 

or the Dedicated Member Reservation Line.

Members have real-time visibility into their Free Nights Annual Allocation, including past stays and future reservations, by logging in to their IHG Rewards Club account. 
Use of your 25 Free Nights (called the "Annual Allocation") is subject to hotel availability and compliance with each of the requirements listed above.
Hotel Protections
All bookings are validated through IHG Rewards Club. This ensures that only members in good standing are able to book free nights.

A 90-day booking window facilitates yield management and limits exposure of room consumption by any owner whose IHG Owners Association membership has lapsed.

The Program automatically calculates a cap on the number of rooms member hotels are required to allocate to Free Nights on a nightly basis. 

A cap on each member's Annual Allocation, as well as the limit of one stay per month, per member at each host hotel prevents excessive use of the Program.

A cap on the inventory required to be allocated to the Program on an annual basis helps ensure that host hotels are not providing an inequitable number of free room nights. 
If you have any questions about the Free Nights Program or need help accessing your account, please contact freenights@ihgowners.org.
Read the Rules
Download full details of the Free Nights Program requirements for both Association members and member hotels.
Book Your Free Nights!
Mobile: Booking your Free Nights is now easier than ever. The IHG® mobile app gives you the freedom to book your free nights from wherever you are—simply download the app for Apple or Android and log into your IHG® Rewards Club account to view your Free Nights balance and see your past and future reservations.
Online: You can also book Free Nights via the IHG Rewards Club website.
Note that any changes or cancellations that you make to your reservation must be made using the IHG mobile app, your IHG Rewards Club account or by calling the Dedicated Member Reservation Line in order to get your canceled night(s) redeposited. Do not call the hotel directly to book or cancel a reservation.