Back to top
The Power of the Association
Being part of the Association gives you a voice with IHG, a wealth of educational resources and an active engagement within the industry—all geared to help you maximize the return on your investment.
Gain Access
Free Nights Program
This unique Association benefit saves you money when you travel. Each member receives a member benefits card that provides twenty-five (25) free room nights in 2022 to use at other member hotels. (Restrictions apply. Log into the Member Center for details.)
Member Center
To keep members at the forefront of the industry, the knowledge-based Member Center serves as an extensive yet intuitive online platform for members seeking information, tools and resources covering the many facets of hotel ownership. Detailed information about Association Allied Partners is also available. 
IHG Rewards Platinum Elite Status
As an Association member, you'll receive a complimentary upgrade to IHG Rewards Platinum Elite status, which includes benefits like free internet, priority check-in and late check-out.
Allied Member Program
Get discounts and special offers on the items you need to run your hotel successfully, such as furnishings, fixtures, telecom equipment, linens and bedding. Our Allied Members are leading industry suppliers. View our current list of partners.
Complimentary Hertz #1 Club Gold Membership
Enjoy expedited service at more than 1,000 locations worldwide, plus benefits such as a car upgrade with each reservation (subject to availability), guaranteed discounts off best available rates worldwide for online and offline bookings and free one-way rentals.
Expert Sessions
Our Expert Sessions help members learn, grow and advance their business through educational webinars with industry thought leaders that explore a variety of hospitality-related topics and issues. 
Gain Insights
Member Communications
Get the inside story on the Association, IHG and the industry through our member publications, including the quarterly OWNER magazine, weekly myConnect online newsletter and more.
Strategic Partners
The Association's Strategic Partnerships expand the number and variety of valuable member benefits we offer, all meant to empower owners to make decisions and grow their business.
Online Video Library
Get complete details and how-to information about Association programs and benefits through an exclusive online video library.
IHG Invoice Resource
Don't understand your IHG Invoice? We can help! The IHG Invoice Resource is an easy-to-use online tool designed by the IHG Owners Association to help members understand the different charges on their IHG invoice. To access this exclusive benefit, available in both English and Spanish, visit our members-only Online Community.  
Formula Blue Guide
We created a comprehensive guide to IHG's Formula Blue standards to help Holiday Inn Express hotels undergoing a Formula Blue PIP and to provide members with general best practice recommendations.
Gain Influence
Working Groups
The Association Working Groups are comprised of owner volunteers who represent your interests and provide advice and counsel to IHG on a wide variety of topics critical to your business. Working Groups include brand standards, technology, procurement, IHG Rewards and many more.
Exclusive Networking Opportunities
Share your experiences with other owners and learn from each other at our exclusive member events, such as special conference activities, regional owner meetings and owner summits.
Global Text Messaging Program
Share your feedback on the hottest topics via our Global Text Messaging Program. Your opinion matters, and results of these periodic surveys are shared with IHG to present owners' views on critical subjects.
Legislative Action
Have a direct impact on your business by advocating for legislation favorable to the hospitality community.
Join the IHG Owners Association today and be eligible for our Four Weeks of Winning, giving you a chance to win IHG Rewards points. Simply activate your 2022 membership during the first four weeks of our membership drive to be entered to win up to 50,000 IHG Rewards points! Learn more here. 
The Association also recognizes the difficulties our members continue to face in the wake of COVID-19. From witnessing record-low occupancy levels and international travel restrictions to the labor shortages and supply chain disruptions, we understand the value of each dollar spent has never been greater. With that in mind, we are extending our 20 percent discount on membership dues into 2022 to help alleviate some of the financial pressure hoteliers are facing. 
It is now more important than ever to stay connected with fellow owners and the Association as we provide advice and counsel to IHG to meet the challenges our industry faces. We are better together, and together we will navigate the future of hospitality. 
NOTE: Only the designated PC (Principal Correspondent) for your hotel(s) can renew membership online.
Membership Dues
A 20% discount has been applied as a one-time consideration due to COVID-19.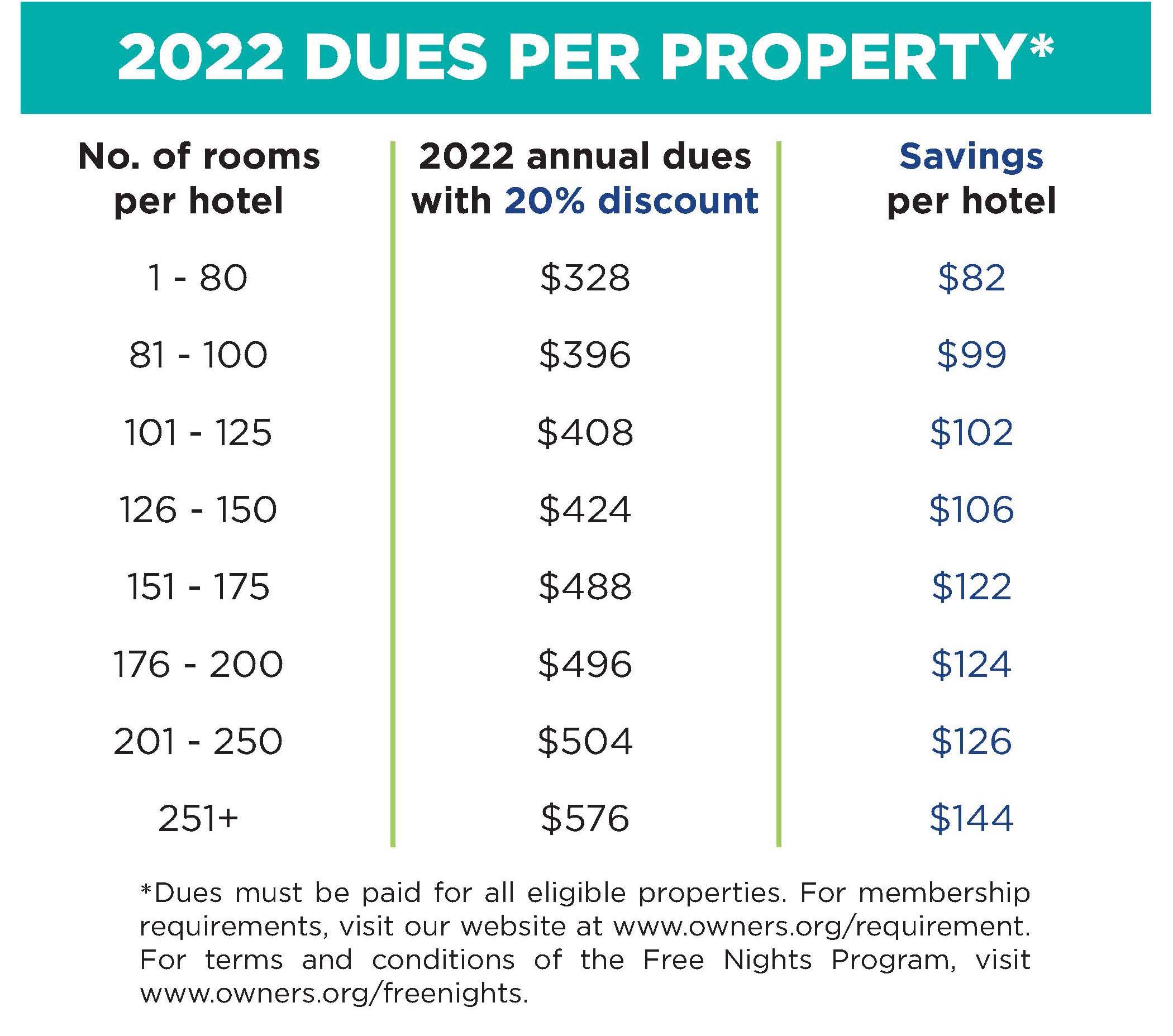 Additional Member Benefits Cards are $500 (if applicable; limit one per hotel)
rgb(246,245,250)
Membership Terms & Conditions
rgb(246,245,250)
rgb(246,245,250)