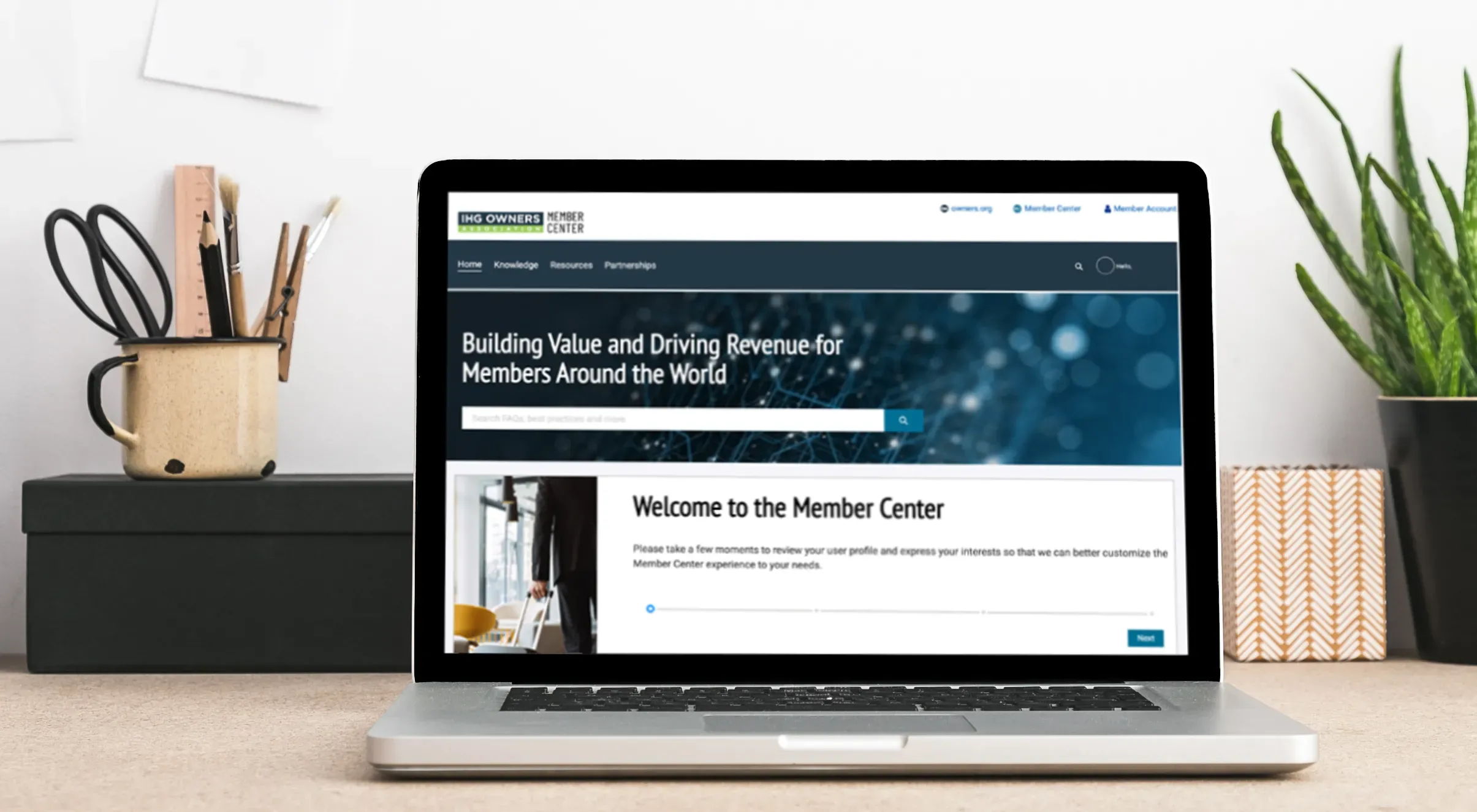 Member Center
The IHG Owners Association's Member Center is a powerful, knowledge-based online platform designed to help members find the timely information and valuable resources they need to drive revenue and reduce costs. 
The Tools You Need to Succeed
The Association is constantly increasing communications with members, offering timely and valuable information to help hoteliers navigate the ever-evolving business landscape that is the hotel industry.
The Member Center is an online repository offering a wide range of informative content from industry experts, Association partners and fellow owners to help members drive revenue and grow their businesses. One of the Member Center's key strengths is its dynamic nature, with new articles, topics and resources being added regularly for the benefit of all hoteliers.
The Member Center is split into three key sections: Knowledge, Resources and Partnerships, each containing invaluable resources and information. In the Knowledge section, owners can search for specific or find a variety of topics such as best practices, current pressing issues facing owners today and more. The Resources section contains industry-leading resources from the Association and IHG, including Expert Session recordings, news on Regional Meetings and the IHG Invoice Resource. The third section, Partnerships, focuses on connecting owners to our Strategic Partners and Allied Members, who provide exclusive prices and services.
If you have ideas for content or cannot find a topic you think could be relevant to members, we would love to hear your feedback through the Member Center's "Contact Us" link.
Getting Started
New to the Member Center? Watch this short video overview to familiarize yourself with the platform's main features.
For easy access, your login information is the same as your existing member account login. If you do not have your credentials or are having issues accessing the site, please reach out to the Association's Member Center Manager, Tiffany Hall, at tiffany.hall@ihgowners.org for help.
Not yet a member? Click here to activate your membership and unlock a wealth of Association benefits, including access to the Member Center.